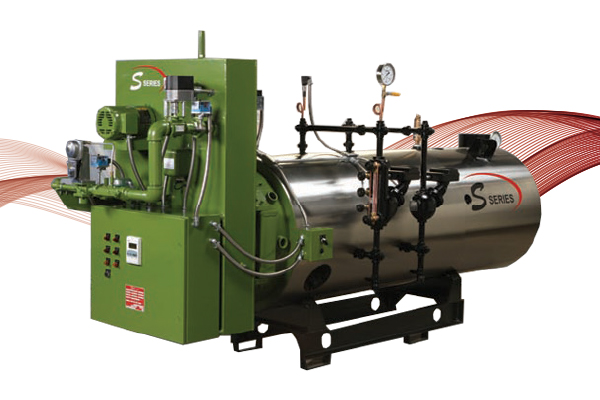 One-pass horizontal fire tube boiler
Combustion: Sealed
Steel Tube Heat Exchange
40 – 800 HP (0.4 – 33.4mmBTU)
NOx Rating: Less than 30ppm
Certifications: ASME "H" stamp, UL
5-year (burner) | 20-year (shell)
Fuels: Natural gas or propane
The Sellers immersion fired S-Series hot water boiler is a unique patent-pending horizontal single pass firetube boiler designed to burn natural gas. The unique burner assembly delivers pre-mixed air and gas through multiple nozzles. The air-gas mixture is ignited as it exits each flame retaining nozzle at high velocity. The resulting flames are long and small in diameter. The flame from each of these nozzles is directed into a 2″ O.D. tube that is completely immersed in liquid. There is a separate tube for each flame with the same amount of heat going into each tube. These small diameter flames burn in the first half of the tube lengths. Therefore, the "fire shines" on half of the heating surface in the single pass boiler — 50% of the total heating surface is radiant heating surface.
The high percentage of radiant heating surface, the low heat input into each tube, and the even distribution of heat throughout the multiple tubes virtually eliminate thermal stress problems that are common in multiple pass boilers.