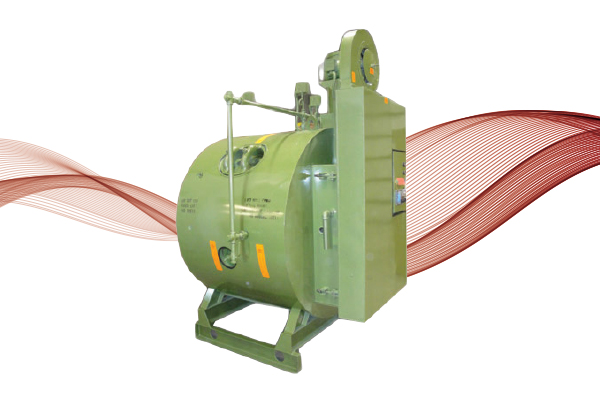 Two-pass fire tube water heater
Combustion: Sealed
Copper jacketed steel tubes
50 – 800 HP (3.0 – 33.4mmBTU)
NOx Rating: 30ppm
Certifications: ASME "H" Stamp, UL
1-year (parts)/ 10-year (shell)
Fuels: Natural gas, propane, biogas
The TPW Immersion Gas Fired 7100 Series of water heaters (20hp to 125hp) is well known throughout the industry for its unique small footprint compact two-pass design and burner technology. Available in both hot water or high pressure and low pressure steam. The two pass immersion gas fired firetube design delivers premixed air and gas through multiple burner nozzles. A corresponding "firetube", completely immersed in liquid, is aligned with the nozzle head inside the combustion chamber. Upon combustion, the nozzles generate a focused, high velocity flame which radiates down the center of each tube. Seller's unique "immersion process". A UL packaged water heater. The benefits of this technology in the TPB Immersion Fired Series steam boilers include: Natural Efficiency Up to 85% efficiency Two-pass design captures additional flue gas heat after heating primary surface Fueled by natural gas, LP gas, Biogas and combo gases. Full heating design within 14 minutes Compact Design Saves Space Utilizes the same single-pass immersion technology Very compact footprint (25 sq. ft to 37 sq. ft.) Low Maintenance Cost and High Longevity Elimination of thermal shock due to balanced heat transfer across primary heating surface; allowing for up to 150° F ΔT Backed by a 20-year non-prorated thermal shock warranty No refractory! Eliminates annual maintenance and replacement costs. Ease of Maintenance Hinged door provides quick access to burners, manifold and heating tubes for easy cleaning and routine maintenance Trimmed with non-proprietary components Full interior access for inspection within 15 minutes. Simplicity of Design No complex controls which require intensive training Fewer moving parts reduces incidence of failure and required retuning No refractory Low NOx and CO Emissions Less than 30ppm NOx Less than 50ppm CO.