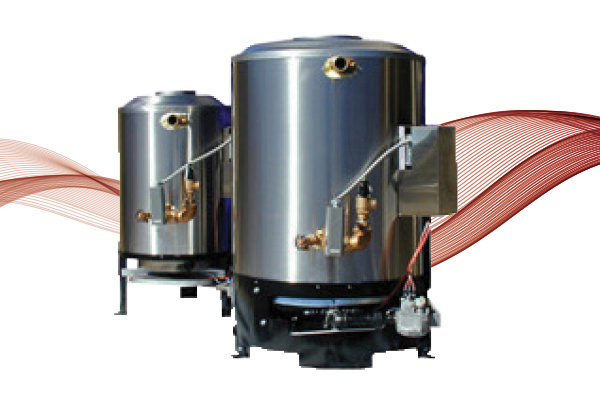 Atmospheric Mid Efficient Water Heaters
The A-2000 is a mid efficient commercial water heater with a unique "hourglass shaped" copper fin tube heat exchanger. Its newly updated and improved engineered design has been reliably tested over 65 years. The A-2000 is a mid efficient energy ( 83%) water tube boiler or water heater depending upon application. The A-2000 has become an industry benchmark for its reliability because of its "large diameter 1.25 inch fin tube" and its "single continuous water way" not permitting clogging or water stoppage.
Other copper tube equipment brands clog within their manifold header tubes or within the small diameter .75 inch heat exchanger tubes. The A-2000 overcomes water stoppage by all water continuously moving through the same water path from top to bottom. The heat exchanger does not clog unless under extreme abnormal water or operational conditions.
PLAIN AND SIMPLE… THE A2000 IS REFERRED TO AS AN INSTANTANEOUS, MID EFFICIENCY, PLUG AND PLAY, "BULLET PROOF" HEATING PRODUCT.
On/Off, Non-Condensing Boiler
Copper Tube Heat Exchanger
Atmospheric Combustion
350,000 – 1,400,000 BTU
Certifications: ASME "H" stamp, ETL
Limited 10-yr. Lifetime Thermal Shock
Fuels: Natural gas or propane